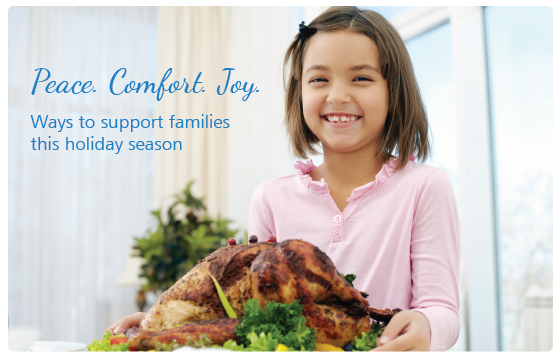 Feed-a-Family

Help ensure everyone has food in their time of need by supporting a family or multiple families for a defined period of time, by funding the cost of collecting, sorting, and distributed donated food to food banks across the province. Donate online now ordownload a form.
Donate food
We welcome perishable and non-perishable food donations at our office at 213 Bedford Highway, and non-perishable items through drop-off bins in Sobeys and Superstores in HRM. Have an even bigger impact by getting your friends, family and colleagues together to organize a food drive.
Adopt-a-Family
Families in need are matched with a sponsor, who, in turn, provides Christmas gift and grocery support for the family. Sponsors and families are anonymous to each other, but sponsors are provided with a list of suggested gifts for family members. For more info, call 902-817-7263 or email [email protected].
Case of Compassion
Cross the wine lovers off your shopping list! Through a partnership with Bishop's Cellar, we offer four unique varieties of wine (in cases of 12), with 25 per cent of the proceeds going to FEED NOVA SCOTIA. Order online.


---